[February 29th 2004]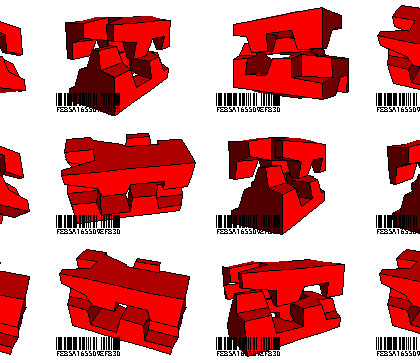 Pablo Miranda Carranza: ArchiKluge
Autopilot
Creative mechanisms
Autopilot is an exhibition of generative art in kopenhagenshop as a part of the RADAR festival (www.visitradar.dk). The exhibition is curated by kopenhagen.dk/net.art and will take place at kopenhagenshop on Enghave Plads 8 in Vesterbro, April 1st-4th, 2004.

Click here to read an interview with three of the artists.
The opening is Thursday, April 1st., 4 pm - 7 pm.

In the exhibition period, the opening hours for kopenhagenshop are Friday - Sunday 10 am - 6 pm.
Generative art is a distinct branch within the field of computer based art (although it is not limited to digital forms). In digital generative artworks, part of the work's creation is left to autonomous processes of a computer. The frames of the creative process are determined by the programmer's - the artist's - creation of algorithms. Successions of different expressions can subsequently arise from the automated processes of the software.
The exhibition shows three generative works - each of them representing an aesthetically different approach to generative art: Generative architecture, generative drawing, and generative sound/animation.
Generative architecture
Pablo Miranda Carranza (b. 1972): ArchiKluge
ArchiKluge generates suggestions of architectural diagrams, actually letting the diagrams evolve according to certain programmed 'fitness principles'. Pablo Miranda Carranza studied architecture at the University of East London . Since the year 2001 he has been teaching at the architecture school of the Royal Institute of Technology in Stockholm and working at the Interactive Institute, also in Sweden . His work explores architectural production processes, which are not based on the notion of design as the expression of an author's intention, but instead the result of the evolutionary, relentless accumulation of unintelligent calculations; a generated architecture, rather than designed. http://www.armyofclerks.net/ArchiKluge/index.htm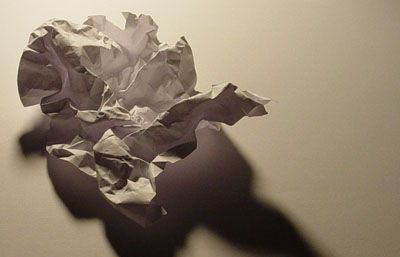 Thor Magnusson and Birta Thrastardottir: Composing Paper.

Generative sound and animation
Thor Magnusson (b. 1972) and Birta Thrastardottir (b. 1976) : Composing Paper
Composing Paper is a generative animation and sound work by animator Birta Thrastardottir and sound artist/programmer Thor Magnusson. Thor works with generative methods in sound and software art and some of his productions can be found on the ixi software website. Composing Paper continues a line in the experiments of ixi software where various algorithms are used to create an unexpected evolution and process, and it becomes alive in the field which Birta is mostly concerned with: tactile material animation. The artists create the conditions of the piece, but the piece itself performs its own manifestation. It is never the same and it never ends. http://www.ixi-software.net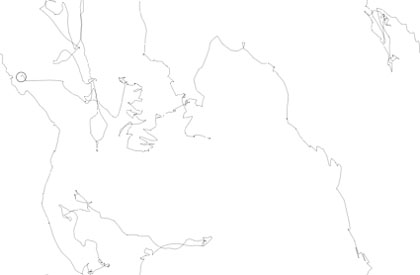 From Ole Kristensen's Flyt dig. In this case the traces were generated while the webcam was watching Mtv.

Generative drawing
Ole Kristensen (b. 1978): Flyt dig
Flyt dig is a piece letting the computer make a drawing based on motion. The software sees through a web cam, decides a direction, and draws a line. Ole likes simple generative graphics and little things that move around to generate complex patterns. Sometimes his pieces are interactive, sometimes they consist of light from screens or little gadgets. He has been studying programming at the Interactive Media programme at Roskilde University and also studied in Sweden at a masters programme in art and technology for a year. He is part of the Halfmachine festival at Christiania and builds physical electronic art. http://ole.kristensen.name

Also check out:
http://www.generative.net
http://www.runme.org/categories/+generative_art/