[August 19th 2004]




5 Faves - picked by Marius Watz
Granted, surfing the net for nice new stuff can be quite time consuming - and often you come across the good stuff by chance. We asked a number of Nordic artist to help us surf by telling us their five favorite picks. The assignment was quite open - it could be current hits as well as all time greatests. Here is what Norwegian artist Marius Watz (b. 1973) sent us.

Processing by Ben Fry & Casey Reas: http://processing.org/ Not a net.art project, but one of the net's most vibrant communities of artists and designers working with generative processes, exchanging ideas, sketches and even code. The focus is the free (and soon to be Open Source) software Processing, created by Ben Fry and Casey Reas. Processing is a programming language and software environment for working with computational form, with libraries for 2D and 3D graphics, physical interfaces as well as video and sound processing.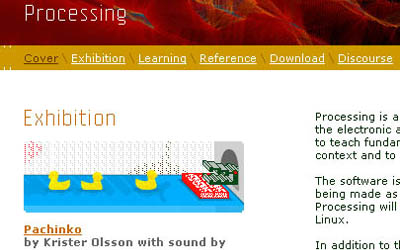 From Processing
Re-move.org by Lia: http://www.re-move.org/
Home of the Austrian artist Lia, it was awarded a distinction in the Net Vision category of Prix Ars Electronica 2003. Lia has been creating and publishing abstract generative gems since the mid-90s, and now enjoys fame for her work as a visual artist and particularly for her work with live visuals for music.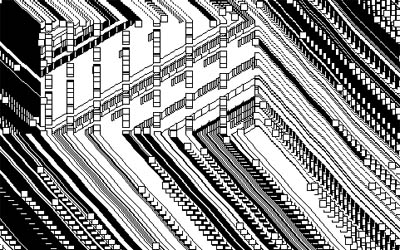 From Re-move
Ecotonoha by Yugo Nakamura: http://www.adnec.com/demo/index_en.html
Beautiful piece created by well-known Japanese artist Yugo Nakamura for the NEC corporation. Ecotonoha is a collaborative space in which visitors are invited to help grow typographical trees made up of short text messages that they leave. Each message (only one per user per day) makes up one leaf on the gradually growing tree. Just wonderful.
They Rule by Josh On: http://www.theyrule.net/
A net.activism classic, They Rule invites the visitor to explore social networks in the ruling class of the United States. The data behind the piece is information about the board members of the top 500 American corporations, and relationships between them. As it turns out, a small number of people are at the heart of these networks, between them controlling a huge amount of capital and thus political power.

Social Circles by Marcos Weskamp: http://marumushi.com/apps/socialcircles/
A near-realtime visualization of relationships between posters on mailing lists turn into a map of the virtual community, and reveals the social 'standing' of members on the list. Everyone who has been part of a mailing list and observed lists dominated by net.gurus (self-proclaimed or otherwise) will recognize some of the mechanisms this piece explores.

From Social Circles

Check out Marius' own work at: http://www.unlekker.net/ and http://www.evolutionzone.com.