[July 13th 2005]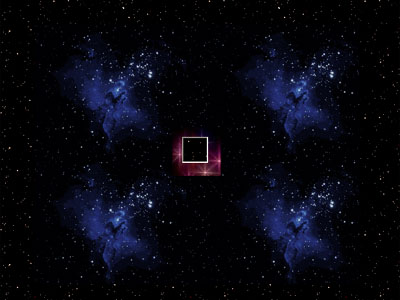 From Olia Lialina's Some Universe. http://de708.teleportacia.org/~james.larin/stellastar/
Stars Fading on the Web
- An Interview with Olia Lialina

Artificial has previously explored how stars are used in digital artworks (http://www.artificial.dk/articles/netstars_eng.htm). With remarkable frequency, digital artists have used stars as aesthetic elements in their works.

Coincidentally, stars on the web also turned out to be a great interest of Russian artist Olia Lialina - especially the outer space backgrounds that once adorned so many pages on the early web. Olia has dealt with these digital stars in both her texts and artworks. Today these stars are fading, as the host pages eventually become redesigned and the stars removed. The disappearing stars are thus poetic examples of the state of transience that web expressions are born into. Thomas Petersen talked to Olia about her peculiar interest, which resulted in a discussion about the ephemeral nature of web expressions and how to archive them.

Olia Lialina is a pioneer of net.art, especially known for the often remixed piece 'My Boyfriend Came Back From the War'. She is currently professor of New Media at Merz Academie, Stuttgart.

In your text A Vernacular Web (http://art.teleportacia.org/observation/vernacular), you deal with the use of star backgrounds on the early web. For those of our readers, who haven't read the text yet, can you tell a bit about your interest in these peculiar forms of expression?
In 1999 when I started to teach at the Design Academy, web design and its pr inciples and aesthetics were big issues. I was showing sites made by professionals and amateurs to the students. Students liked to laugh about funny web pages with clumsy navigation and stars in the background. We were often sending links we found to each other: "look, another great stars background!". It looked like amateur pages made by science fiction fil m and video gam e fans would always exist, keeping the spirit of the medium of the people. But month-by - month they were becoming professional in the way they looked and in the goals they served. It was becoming more and more difficult to find a page with stars on it. Now, in 2005, it is a work similar to archaeological excavations.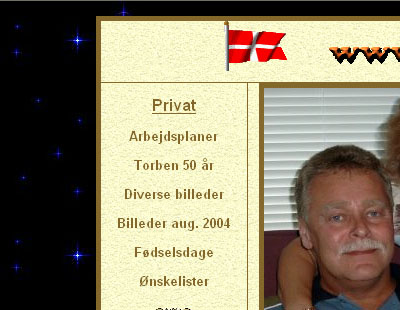 From http://www.torbengeist.dk.

What makes star backgrounds attractive to amateurs, whose sites have no thematic links to stars? Take this Danish page for example: www.torbengeist.dk, which is a private homepage.
Let me quote myself:) 'The Internet was the future, it was bringing us into new dimensions, closer to other galaxies. So the look of the Internet had to be an appropriate one like in Star Crash or Galaga. It had to be like the inside of a computer or somewhere out there. Space wallpapers made the Internet look special. This was obviously a space with a mission that other media could never accomplish. A great feature of the outer space background was that it could be just two colors, maybe half a kilobyte in file size, but it would instantly give a futuristic feel to your page. So a bandwidth problem was solved as well.'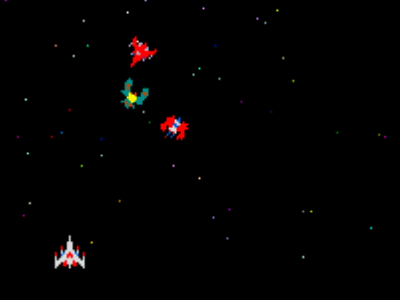 From the classic computer game Galaga from 1981.

You seem very interested in amateur web culture and design as such. Why?
It is a very rich culture. And MY culture. When the web belonged to amateurs it belonged to me. I used its potential, I benefited from the 'many-to-many'-principal of communication - I linked and was linked to. If the web of the 90ies disappears my works will be obsolete, unless they are preserved and the software and hardware for exhibiting them is preserved as well.

Why is it important to attempt to archive fading web expressions?
To remember the roots. The web got its look before graphic designers started to compose websites in Photoshop. But for some reason web design is seen as a younger brother of graphic design. The best way to archive something is to stir up the interest in it, so it does not disappear. :) Different cultural organizations do collect net art and web design. There is nothing impossible in collecting web stuff as such. But obviously museums and archives are far from seeing the beauty and importance of the vernacular of the web, so I just copy what I find interesting onto my hard disc. And I guess I'm not at all alone in doing so. Computers are so powerful today that you don't need to delegate storing to institutions.

But if museums or archives aren't involved in this process, will the public be able to gain access to local archives like yours - and aren't there stability issues in this method?
Honestly, I'm not aiming to solve accessibility and stability issues. I collect things that I value and popularize them in an artistic or journalistic way, or as a teacher. To preserve for future scholars, and annotate every star background sign, does not make a lot of sense to me. It is more important to make people use them and create new ones.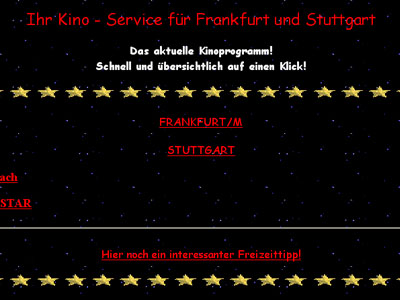 From http://www.kinoservice.de.

Tell me about your favorite star page.
http://www.kinoservice.de: Cinema Program for Frankfurt and Stuttgart. It hasn't changed its look since 1996, but the information found there is always up to date.

You have used the star background as artistic material for your piece Some Universe (http://de708.teleportacia.org/~james.larin/stellastar/). Can you tell me a bit about this piece?
This piece was made for the Kingdom of Piracy exhibition. It is highly unrecognized due to the fact that it is not really working on Mac. The page is too long for Mac browsers. :) I constructed it from all the outer space backgrounds I could find on the web at that moment. The idea was to bring disappearing backgrounds to the foreground, to free them from the content and let them shine. And last but not least, to archive them for the future generations in the form of an artwork.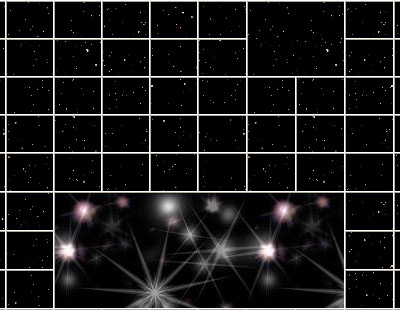 From Olia Lialina's Some Universe. http://de708.teleportacia.org/~james.larin/stellastar/

How do you interpret the star metaphor as an artistic expression?
I guess that stars in any form and medium; electronic, painted, filmed or real is a very attractive motive. Stars stand for future, mystery and devotion.

What are you working on these days?
Last year I made a series of Online Newspapers. A fictitious work. An attempt to imagine how online newspapers would look if their look was developed 10-9 years ago by amateurs and not 7-6 years ago by professionals (http://art.teleportacia.org/exhibition/online_newspapers/).
And together with my co-author Dragan Espenschied I made 3 perfect animated GIFs. In our works we so often use GIFs from free collections. It was time to contribute. We hope people will use them to decorate their sites. I have already been accepted in to good company.









Olia as GIF.
Links:
- More of Olia Lialina's works: http://art.teleportacia.org
- About Olia Lialina: http://art.teleportacia.org/olia.html
- Olia Lialina: Some Universe: http://de708.teleportacia.org/~james.larin/stellastar/
- Olia Lialina: A Vernacular Web: http://art.teleportacia.org/observation/vernacular
- Olia Lialina: My Boyfriend Came Back From the War: www.teleportacia.org/war
- Dragan Espenschied: Gravity: http://art.teleportacia.org/exhibition/GRAVITY