[February 24th 2004]


Christian Andersen.
Software art festival Read_me 3.4 goes to Aarhus
- An interview with Christian Andersen
Our special on software art now brings us to the city of Aarhus in Denmark. After being held in Moscow and Helsinki, the software art festival Read_me touches down in this fair city in August 2004 for a version 3.4. With an intense conference-, workshop- and exhibition schedule, we're in for something special.

Thomas Petersen conducted an email-interview with one of the Danish organizers Christian Andersen. Christian Andersen is a Ph.D candidate at the Dept. of Information and Media Studies at Aarhus University. The working title of his Ph.D dissertation is The Morphology of the Computer Game.

In this extensive interview, one topic was the nature of software art and how it distinguishes itself from 'computer art' or 'net art'. For the knowledgeable in this field, the deadline for delivering abstracts for the conference is March 1st, 2004. There will be calls for submissions of art work later.

Click here to get to the other articles in our special on software art.

Read_me has previously been held in Moscow and Helsinki . How did Read_me 3.4 end up in Aarhus?
About one year ago Digital Aesthetics Research Centre (Center for Digital Aestetik-forskning) invited Alexei Shulgin to participate in the opening of the Centre in Aarhus. As you know, Shulgin was one of the front figures in net.art and lately he has been busy laying the foundation for software art as well. Software art is a quite new concept and as an art form it has mostly been a phenomenon of 'the underground', so he probably felt that the attention he was getting here was genuine. Anyway, his talk and concert (or rather his computer, DX386's concert) here in Aarhus was very successful and a lot of people attended both events. So, last summer he and his partner Olga Goriunova contacted us to hear if the Centre was interested in hosting the event in 2004, Read_me 3.4.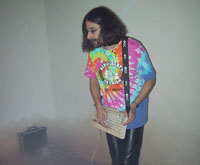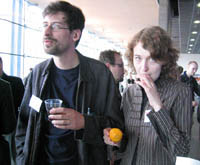 Left: Alexei Shulgin in Aarhus, 2002 http://www.easylife.org/386dx/ . Right: Alexei Shulgin and Olga Goriunova at last year's Read_me 2.3.
Give our readers an overview of the key events of Read_me 3.4. What is going to happen?
Read_me 3.4 distinguishes itself from the two previous festivals by having several parallel events taking place.

As usual we are going to have a conference addressing the issue of software art. Software Arts and Cultures is the title of the conference. The conference is hosted by the University of Aarhus . At the conference, media theorists and other researchers will present their thoughts on software art and will engage in a debate with the conference audience.
Next to the conference we have what we refer to as a City Camp. The City Camp is the artists' space. Here, software artists can present and discuss their work; we provide a space for artists to work together with different aspects of software art and people with an interest can come by and listen, talk and watch.
Of course, when you organize a thing like this there are certain rules you have to obey. The poetics of software art dictates that things have to be open and free. One of the objects of software art is to make users aware of the principles and hidden agendas that organize their behaviour. The tool to surpass this barrier and create this awareness is a degree of anarchy - or at least openness in the structure. So, also when organizing a software art event, you need this openness in the structure. You have to be able to look behind the (inter)face of the event, so to speak. Therefore we need a structure where we don't tell people what to do but rather let people decide for themselves. We are not exhibiting software artists and their art, nor are we telling them what they have to do, we are merely facilitating them. Software artists and spectators usually communicate via virtual networks (like Runme.org) and we are just providing a physical place to meet, self-organize and create. This is why we call it a 'camp' - hoping that we are stressing the self-organizing, open system as opposed to the dictated, closed system. The camp will be housed by the Jutland Academy of Fine Arts and is co-organized with Runme.org and Dorkbot London who have some great ideas about how to create spaces like this.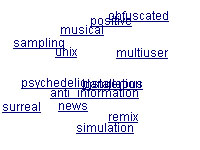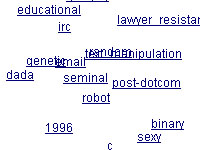 From runme.org's keyword cloud.

For Read_me 3.4 we are also creating an exhibition of software art works. In a way, I agree, this seems a little odd. Evidently a lot of these works are not meant to be exhibited. Some of them are tools, for instance, that the user needs to experience as a tool and not a work of art. Therefore they need to be placed where tools are placed (where they are used) and not in an exhibition space. This is the nature of many art forms today. They need to work in a special (everyday) context. So, why create an exhibition of software art at all?
Well, first of all, as researchers, we feel an obligation to exhibit software art to cast light upon and document a notable and significant phenomenon on the contemporary art scene. Most importantly, however, we feel that many of the issues software art addresses are extremely important to us as a culture: As a culture using software to deal with everything - almost even experiencing the world through software - we need to reflect on the consequences; on the agendas hidden in the software and how they make us perceive the world; on the politics of software and so on. Software art, as many other art forms that only work in contexts outside exhibition spaces, can however be quite hard for ordinary people to find. You need to look for it and you need to know what you are looking for. This is the main reason why we have chosen to make an exhibition: to guide people.
But, to guide people and create a special attention to the way software works you cannot just create a traditional museum-exhibition where the objects are exhibited and curated by the museum. It is very important to us that we try to create a situation where ordinary people can meet software art as users and not as art spectators. To do this we need something that is pretty far from an exhibition. We need a space that is structurally open and just facilitates the works. To make this 'software art space' we have decided to cooperate with the art space rum46 in Aarhus who has years of experience facilitating art forms that only work outside traditional exhibition spaces.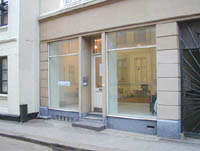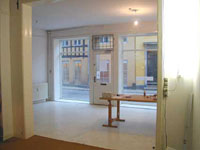 Images from rum46 in Aarhus.
Software art is a quite new concept and subject to continuous definition. I would like to hear your angle on the concept - what is software art?
Art forms involving computers are not new. For instance we have seen and still see a lot of multi media shows where computers are used to create visual or acoustic experiences on a stage or works of art that addresses interactivity and what it means to be 'part of the work' as such. Usually these works of art use the computer as a tool for creating certain experiences. Software art is different in the sense that it does not only use the computer and the software as a tool but addresses the computer, its code and its software directly: what it means to be a tool, how the tool affects the way you use and what you create, how the tool itself can be an expression, etc. In general there is no definition of software art, but as a rule it addresses different aspects of software:
1) Often software art is concerned with the question of what it means for our culture to perceive the world through software. This element of cultural criticism in the art directly relates to other art genres that have appeared since the sixties using the language of mass media. So, software art is often seeking to examine the general influence of the media (software) on our culture.
2) You may also talk about software art as 'cultural software'. Software art differs from ordinary pragmatic software (Word, Photoshop, Windows, etc.) by being artistic experiments that displays software in a different way than the mere functional. In a time where the computer not only relates to labour but to an increasing degree also may be regarded as a cultural medium used for entertainment and art, software art may, through its experiments, aid the development of new types of software and interfaces.




A partial screenshot from one of ixi-software's experimental music interfaces: Lauki.
3) Software art perceives itself as being strongly political. Data/information can be found everywhere. Being able to handle information is an important tool controlling the computer medium. Software art tries to draw attention to how software works not only technologically but also socially and politically. This way, software art has an educating perspective trying to preserve a democratic, transparent and open society. The related 'free software' movement may be seen as an expression of this aspect of software art.
4) Software art as many other art forms consciously works with and examines its own materiality. It is an algorithmic art form. It is an examination of what it means to express oneself using a computer for art and communication; for instance using code as an expression in itself, and not just as a tool generating another expression.




A partial screenshot from the Perl poetry project Jabberwocky by Eric Andreychek.

How does this concept differ from other terms like 'net art' or 'computer art'?
This is a good question and I understand why it is an issue, because very often the distinction is blurred; especially between net.art and software art where some artists have been working within both fields.
In general 'computer art' finds its origin way back in the early sixties and has thrived ever since; especially in the eighties where we saw a lot of 'multi media art'. Today too, computer art is challenging, creating lots of interesting computer generated works of art. In general computer art uses the computer as a means to create a tangible, visual and/or acoustic art works like a robot, a VR-show, a computer generated drawing or something else.
Net.art is predominantly a phenomenon of the nineties (1995+) where there was a great need for examining the implications of the World Wide Web artistically. It consists of experiments that, using the net, examines the nature of networks and the web in general. It values elements like nonlinear access, public service, cooperation, community & identity and openness.
Software art examines the nature of software. But software art is not exclusive, meaning that some experiments within the field of computer art and net.art may also address issues that are of concern for the software art: Computer art may for instance be concerned with the materiality of the code, just as software art is; the net can be regarded as a type of software; cooperation, openness and community is just a big an issue in software as it is on the net, etc. It just seems like the artists have changed focus since the nineties and sees our culture today more as a software culture than a net culture.
In a sense software art is an expression of one art form that has developed into a new art form. Net.art was/is net-specific and often worked around an avant-garde breakdown of an illusionist interface (- very much in opposition to VR and other technologies that believed in the immersion of the user). Net.art often questioned or reversed the expectations of the viewer: Instead of web pages with images and readable text one got streams of code and moving windows. After a couple of years net.art broke the frame and started playing with the windows, the operating system (e.g. Jodi's OSS) or even the browser itself as in I/O/D's Webstalker (1997).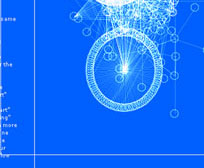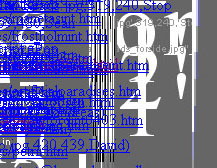 Partial screenshots from I/O/D's Webstalker and Mark Napier's Shredder (Right). Both of these screenshots are alternative representations of pages from kopenhagen.dk/net.art.
After Webstalker several net-artists started working with browsers (e.g. Mark Napier) and working with software in general, such as Adrian Ward's Autoshop and Auto-Illustrator, seemed the next logical step. So, in this sense software art is a development of net.art. At the same time, as pointed out by Florian Cramer and Andreas Broegger, net.art has - just as software art has - connections back to the conceptual art of the 1960ies. As was clear from last year's Ars Electronica Festival and its theme, Code, software art is pointing back to early computer art, which for natural reasons also focused on algorithms and code. So in this sense software art performs an art-historical loop back to early computer art of the late 60ies and early 70ies.

Worth checking out:
- Lars Midboe's report from Read_me 2.3 (2003).
- http://www.runme.org
- http://www.digital-aestetik.dk
- http://www.m-cult.org/read_me
- http://www.cuandersen.net/