[January 22nd 2007]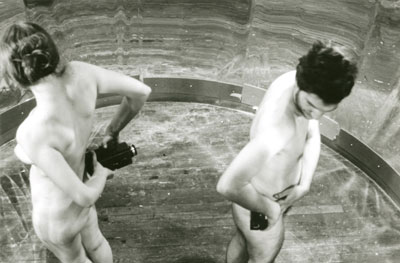 Dan Graham: Body Press, 1970-1972. Photo: Dan Graham, courtesy of the artist and Marian Goodman Gallery , New York and Paris.
Special: Embodiment in Digital Art
'[…] the image can no longer be restricted to the level of surface appearance, but must be extended to encompass the entire process by which information is made perceivable through embodied existence. This is what I propose to call the digital image.' (Mark Hansen: New Philosophy for New Media, p. 10)
In this last special at Artificial we have chosen the theme: 'Embodiment in digital art'. Inspired by current trends in media art and theory, we take our point of departure in the expanded notion of the digital image in order to have a closer look at the role of the body in contemporary digital art and culture.
Art has always actively involved human beings: whether you read a book, watch a film, visit a museum - or just talk to a good friend. As soon as you engage in the world, a process of interaction and exchange occurs.
In his widely acknowledged book, New Philosophy for New Media, Mark Hansen demonstrates how the embodied spectator is involved directly in the very production of contemporary media art with focus on process, performance and interaction. The 'image' can no longer be understood as an external formal thing, e.g. as a canvas hanging on the wall in a gallery. The so-called digital image has to be acknowledged as an open field or terrain of possibilities in-formed or in-framed by physically present human beings in specific situations bound in time and space. The embodied existence is the filter, the nexus and the materiality of the art experience. Following Mark Hansen's argument means that in order to grasp the new scene for the digital art event, we have to turn our focus from the level of code towards the embodied human experience.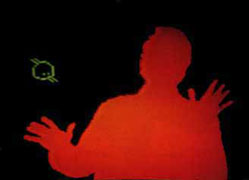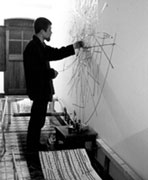 Left: still image from Myron Kruegers Videoplace, 1970. Info and video: www.artmuseum.net/w2vr/timeline/Krueger.html. Right: Nam June Paik: Random Access, 1963. Photo: Manfred Montwé. www.nydigitalsalon.org/10/artwork.php?artwork=13.
This special consists of a number of interviews and articles about international projects - from young talented ideas to prominent research projects - which investigate aspects of embodiment in different art forms supported by state of the art technology. Our focus on this subject is part of a wider theme on 'body and technology' which will be launched by the web magazine Turbulens (www.turbulens.net) in March 2007 (the curator group Maskinstorm (www.maskinstorm.org) is also involved in the theme). Keep an eye open this spring for a broad variety of activities within the field.
In the list below we present a number of previously published articles, and introduce two new ones - primarily written by our faithful writer Emil Bach Soerensen. He has met with the young German art group Susigames for a talk about the recent trend for embodiment in game art. Their augmented installation, EdgeBomber, turns the traditional gaming situation upside down by involving the user's physical expressions directly in the creation of a platform game. Emil has also asked Joachim Jäger, curator at Hamburger Bahnhof, Museum for Contemporary Art in Berlin, what we can learn about embodiment from film and video art displayed at the large retrospective exhibition, Beyond Cinema: The Art of Projection, currently shown at the museum. Among the previously published articles you will find interviews with the two award winning American artists, Camille Utterback and Marc Downie, as well as two articles commenting on a number of digital art installations displayed at ZKM and at Ars Electronica, that use tangible interfaces to investigate new perspectives on realtime generation of sound and images.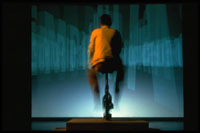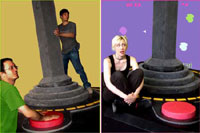 Left: Jeffrey Shaw: Legible City, 1989. www.jeffrey-shaw.net. Right: Mary Flanagan: [giantjoystick]. www.maryflanagan.com.
Articles:
[January 22nd 2007]
Emil Bach Soerensen: 'Challenging Joypad Domination – Game Art for the Body and the Brain – An Interview About EdgeBomber'.
[January 22nd 2007]
Emil Bach Soerensen: 'Learning Embodiment from Film and Video Art – An Interview with the Curator Joachim Jäger from Hamburger Bahnhof'.
[December 19th 2005]
Tatiana Lyng Pedersen and Emil Bach Soerensen: 'How long does the subject linger on the edge of the volume - An interview with Marc Downie'.
[September 13th 2005]
Thomas Petersen: 'Artistic Interfaces - Between Instrument and Artwork'.
[August 15th 2005]
Emil Bach Soerensen: 'The Algorithmic Revolution - Please Touch the Screen!'
[May 13th 2005]
Emil Bach Soerensen: 'An Experience with Your Body in Space! – Interview with Camille Utterback'.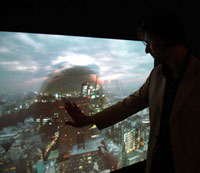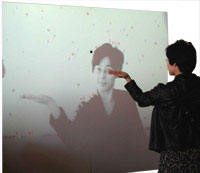 Left: Alvaro Cassinelli: Khronos Projector, 2005. Photo: Emil Bach Soerensen. www.k2.t.u-tokyo.ac.jp/members/alvaro/Khronos. Right: Camille Utterback: Text Rain, 1999. www.camilleutterback.com.
Further readings:
- Mark Hansen: New Philosophy for New Media, the MIT Press 2004.

- Bernadette Wegenstein: Getting Under the Skin, the Body and Media Theory, the MIT Press 2006.

- Brian Massumi: Parables for the Virtual – Movement, Affect, Sensation, Duke University Press 2002.

- Henri Bergson: Matter and Memory, tr. N.M. Paul and W.S. Palmer, New York: Zone Books, 1998.

- Jonathan Crary: Techniques of the Observer - On Vision and Modernity in the Nineteenth Century, MIT Press 1990.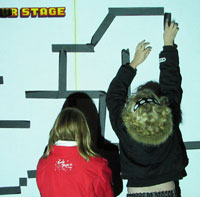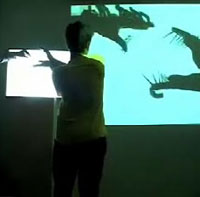 Left: Susigames: EdgeBomber, 2006. Photo: Thomas Petersen www.edgebomber.com. Right: Philip Worthington: Shadow Monsters, 2005. www.worthersoriginal.com.